Diabetic Education Classes
Diabetic Education for Charleston. Barrier Islands Free Medical Clinic periodically offers health classes on Type 2 Diabetic Education, free and open to the public. Learn how to prevent complications from diabetes and lead a healthier lifestyle. The next session will run  September 16th – 30rd, from 5:30-7:30pm, located at the Clinic.
September 16—Understanding Diabetes; Healthy Eating 1
September 23—Healthy Eating 2; Exercise and Medications
September 30—Preventing Complications.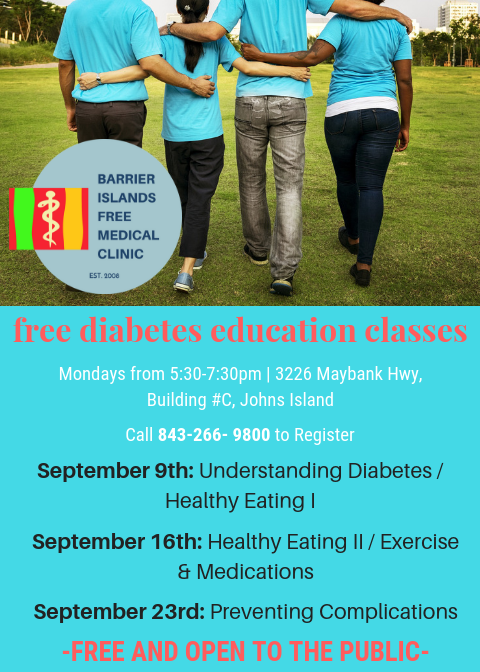 This program will provide a lifestyle coach to guide you in the skills and habits you need to lose weight, be be more physically active, and manage stress and to make lasting changes to prevent diabetes. A certified lifestyle coach teaches classes. This program is part of the Centers for Disease Control and Prevention National Diabetes Prevention Program, which has been shown to prevent or delay type 2 diabetes by 60% in those at risk for diabetes.
You do not have to be a patient of the clinic to register, but space is limited. Call 843-266-9800 to sign up today!