Free Clinic Eligibility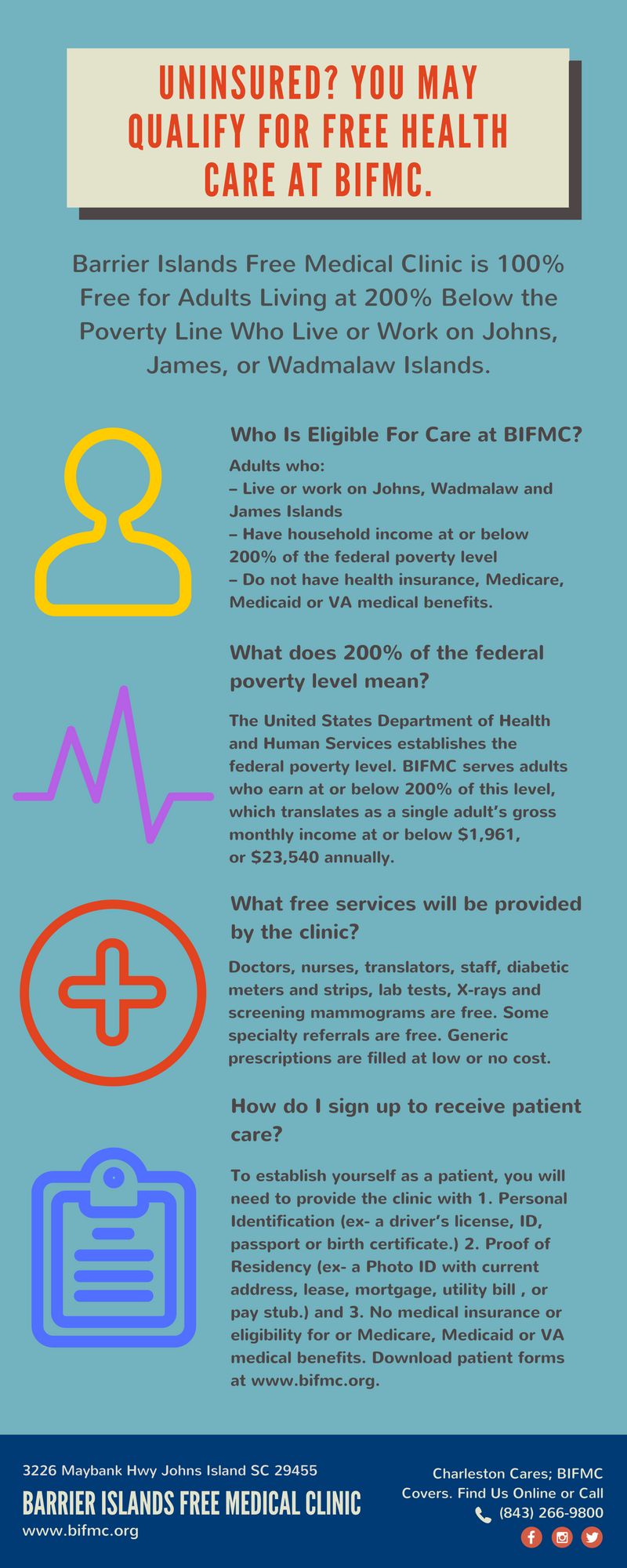 Barrier Islands Free Medical Clinic (BIFMC), a free clinic in Charleson, SC, is a non-profit 501(c) 3 organization that provides continuing primary health care to uninsured adults living at or below 200% of the Federal poverty level on Johns, Wadmalaw or James Island. To qualify for our free healthcare, you must:
Live or work on Johns, James or Wadmalaw Island (inclusive of the following zip codes: 29455, 29487 and 29412)
Have no health insurance, Medicare, Medicaid or VA medical benefits
Have household income at or below 200% of the federal poverty level (for example: Single adult's gross monthly income cannot exceed $1,961).
Documents You Will Need to Provide Us
To establish yourself as a patient, you will need to provide The Free Clinic with the following information:
Personal Identification – one of the following: driver's license, ID, passport or birth certificate.
Proof of Residency – one of the following: Photo ID with current address, lease, mortgage, utility bill in patient's name.
No medical insurance or eligibility for Medicare, Medicaid, or VA benefits.
Prepare for Your Visit
Before you schedule an appointment, you will need to complete the following forms (download below) and bring them to the free clinic:
New Patient Instructions
Medical History Form
Consent for Treatment
Patient Application
If we determine you are not eligible for our free healthcare services, we can direct you to other free patient care clinics throughout the Charleston area. For a national Volunteers In Medicine directory, click here.